You have questions! Here are some answers to some of our most frequently asked questions (FAQ's) about what we do, and how we get it done!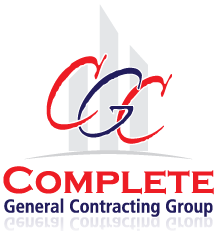 What is your specialty?
We specialize in high and low rise condominiums.
Where do you do most of your jobs, is it only the Sarasota or Delray Beach area?
We work all over Florida, and in the Florida Keys.
What type of work do you do?
Our work includes installing Impact Windows and Doors, Storefronts, Automatic Doors, Custom Welded Rails, Glass Rails, Mechanical Rails, Screen walls, Painting, Waterproofing, Concrete, Carpentry, Custom welding.
Where do you hire your employees from?
All of our employees are in house. We have a staff of over 200 hardworking and highly trained professionals including certified welders, fabricators, window and door technicians, concrete, waterproofing and painting crews.
How do you ensure your workers and workplace are safe?
Complete General Contracting Group has a full time OSHA certified safety director who monitors and ensures a safe working environment on all our projects.
Where do you get your hurricane impact windows from?
We have many partners we typically work with. You can find them here.
What steps do you take to protect our homes while you work on them?
We take great steps to prepare and protect your home. You can see more here.
We need new handrails. What types do you have?
We specialize in handrail replacement. See more info here.
Do I need impact windows?
There are benefits to hurricane impact windows.
Can you rebuild the stairs in my condominium?
Yes, we have an expert carpentry team. We do stairs and even remove entire wood frames and get them up to current code.
Are you insured?
Yes, we are state certified, licensed, insured, and bondable.
Don't hesitate to contact us if you have any other questions, we are your complete restoration company!